Install Homebrew
To download install Homebrew run the install script on the command line as below and let the script do its thing:
/usr/bin/ruby -e "$(curl -fsSL https://raw.githubusercontent.com/Homebrew/install/master/install)"
If you don't have Apples Xcode command line tools installed it will be installed for you.
Then Homebrew is installed.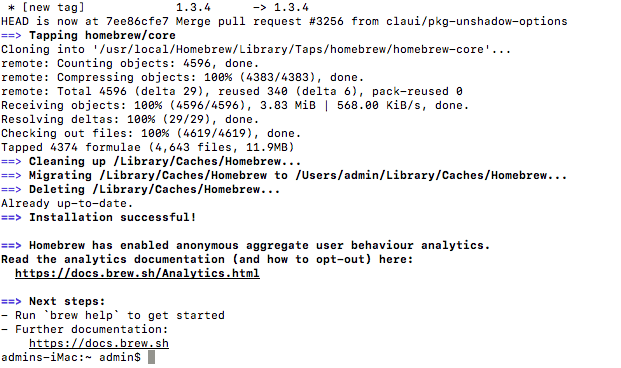 After this Homebrew is installed and ready to install other apps.
To get started run
brew help
To check for any issues with the install run:
brew doctor
One issue that typically comes up is an outdated or missing version of XQuartz.
To search for an application:
brew search
To install
brew install <application-name>
To list all apps installed by Homebrew
brew list
To remove an installed application
brew remove <application-name>
To update Homebrew
brew update
To see what else you can do
man brew
Where does Homebrew install stuff …. in the Cellar
/usr/local/Cellar/
Where the brew lives.
You can see your Homebrew configuration by running
brew config
Output should be similar to …
admins-iMac:~ admin$ brew config
HOMEBREW_VERSION: 1.3.4
ORIGIN: https://github.com/Homebrew/brew
HEAD: ac8b58537fe3dd71098a43afcc6a1785dcde1d39
Last commit: 9 days ago
Core tap ORIGIN: https://github.com/Homebrew/homebrew-core
Core tap HEAD: bd5f07a5efd7cdd5c433bc0f74d72fdd51e4f91a
Core tap last commit: 51 minutes ago
HOMEBREW_PREFIX: /usr/local
HOMEBREW_REPOSITORY: /usr/local/Homebrew
HOMEBREW_CELLAR: /usr/local/Cellar
HOMEBREW_BOTTLE_DOMAIN: https://homebrew.bintray.com
CPU: quad-core 64-bit sandybridge
Homebrew Ruby: 2.3.3 => /System/Library/Frameworks/Ruby.framework/Versions/2.3/usr/bin/ruby
Clang: 9.0 build 900
Git: 2.13.5 => /Library/Developer/CommandLineTools/usr/bin/git
Perl: /usr/bin/perl
Python: /usr/bin/python
Ruby: /usr/bin/ruby => /System/Library/Frameworks/Ruby.framework/Versions/2.3/usr/bin/ruby
Java: N/A
macOS: 10.13-x86_64
Xcode: 7.2.1 => /Volumes/Macintosh HD/Applications/Xcode.app/Contents/Developer
CLT: 9.0.0.0.1.1504363082
X11: N/A

All installations via Homebrew are filed independently in the filing system in /usr/local/Cellar and linked into /usr/local/bin which is a directory which allows you to run these commands and apps as if part of the regular operating system.
This directory is also out of the SIP bounds so there should be no authentication macOS error dialog boxes.
HomeBrew is a great package manager just start installing some apps and explore.!